Line 1:
Line 1:
 

[[File:F3438d5573.jpg|thumb|200x200px|Kōsuke Edogawa]]

 

[[File:F3438d5573.jpg|thumb|200x200px|Kōsuke Edogawa]]

−

'''Kōsuke Edogawa''' (江戸川 耕助, ''Edogawa Kōsuke'') is the classmate/best friend of [[Kiyotaka Yoshino]] in class 2-1 who is a [https://en.wikipedia.org/wiki/Sadomasochism masochist].

+

'''Kōsuke Edogawa''' (江戸川 耕助, ''Edogawa Kōsuke'') is the classmate/best friend of [[Kiyotaka Yoshino]] in class 2-1 who is a [https://en.wikipedia.org/wiki/Sadomasochism masochist].

 
 
 

== Etymology ==

 

== Etymology ==
---
Latest revision as of 23:37, 13 August 2020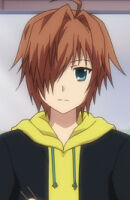 Kōsuke Edogawa (江戸川 耕助, Edogawa Kōsuke) is the classmate/best friend of Kiyotaka Yoshino in class 2-1 and the younger brother of Shiki Edogawa who is a masochist (a person who derives sexual gratification from their own pain or humiliation).
Etymology[]
The name Kōsuke means "plowing" (耕助).
Kōsuke's surname Edogawa means "bay, inlet" (江) (e), "door" (戸) (to/do) and "river, stream" (川) (kawa/gawa).
Gallery[]